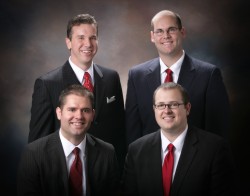 Top: Kemp, Eason Bottom: Dyer, Sease
Once Christopher Kemp, Tyler Eason, Matthew Sease and Jonah Dyer got a taste of the courtroom, each knew that working as an associate for a law firm post law-school wouldn't be the best fit.
Their collective experiences in Drake Law legal clinics made each of them hungry to get out and get into the courtroom. The practical experience the clinics provided and continuing contact with established Drake alumni gave them the tools to do so.
What started as admiration for each other's work in the criminal clinic in the fall of '09 turned into casual post-softball league conversations about forming their own firm. The talks got more serious the following spring when the four began to meet to iron out the idea.
They reached out to Drake Law alumni and attended a Drake panel discussion aimed at solo practitioners for insight into how to meld their law degrees with a viable business plan. The four recent graduates opened Kemp, Eason, Sease & Dyer in the fall of 2010.
"These are four really accomplished students who could have gone any place, but because of their experiences here at Drake, they knew what they wanted and had the skills to get there," said Dean Allan Vestal. "This is a notable accomplishment."
As Eason, Sease and Dyer, all LW'10, studied for the bar, Kemp, LW '09, read up on website design and built a site that would launch after the other three passed the bar exam.
The next big step was signing a lease in the Equitable building in downtown Des Moines — a location that gives the freshly minted general practice firm more credibility and easy access to the courthouse. Eason remembers taking his first client call while the office phone was still on the floor before his desk arrived.
Since opening its doors Oct. 1, the team has more than 100 cases either completed or in process — many of them thanks to the legwork they did to get noticed on county court-appointed attorney lists.
"We took it a step further and went to each courthouse, introduced ourselves and tried to put together a name and a face," said Kemp. That meant driving to counties more than an hour away to speak to the clerk of court, court attendants and judges.
"What I wanted was out from behind the books," said Dyer. "Drake does a great job of providing that. Without Drake's clinical experience, there's no way we could do what we're doing."