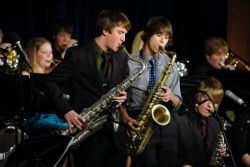 Members of Drake Jazz Ensemble One will perform at the Feb. 15 concert.
Drake University will be hosting over 100 high school students from across the state on Tuesday, Feb. 15, for Drake's high school honor band day. The event originally had been scheduled for Tuesday, Feb. 1, but was postponed due to the weather forecast predicting a major snowstorm on Feb. 1.
The students will rehearse during the day on Feb. 15 and later that evening each grade will perform in the Jazz Day Concert at 7 p.m. Both Drake University jazz bands will perform at the end of the concert.
The event will be held in Sheslow Auditorium, 2507 University Ave. Admission is $5. For more information, call 515-271-3975.