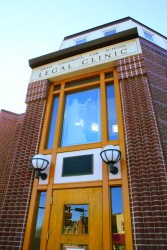 The Drake Legal Clinic will house the new DVI Clinic.
Drake law students will receive hands-on legal experience while helping some of Iowa's immigrants take legal action against domestic violence. The Drake Legal Clinic will open a new Domestic Violence Immigration Clinic  (DVI) this semester.
Law students participating in the clinic will have successfully completed the equivalent of three semesters of law school and obtained an Iowa student practice license.
Patricia Houlihan, adjunct professor and supervising attorney for the new DVI clinic, said the students would not only participate in weekly client clinics, but also attend seminar classes to learn and sharpen their client and case skills and techniques.
"Students will represent clients in matters dealing with immigration, family law, landlord-tenant, consumer law and restraining or protective orders," Houlihan said.
"They will interview and counsel clients, conduct factual investigation and legal research, develop case strategies, collect and analyze documents, conduct legal discovery and draft pleadings."
The students will also appear in court as necessary with their client and a clinic faculty attorney.
The DVI clinic is part of an Iowa partnership project called Immigrant Survivors Advancement Legal Program (ISA). The partnership is a collaboration of several groups — Advanced Special Immigration for Survivors Technical Assistance, Latinas Unidas por un Nuevo Amanecer (L.U.N.A.) and the Polk County Crisis and Advocacy Services. The DVI Clinic and its partners work together with the mission of teaching the law students and representing clients.
"The ISA Legal Program was developed and funded to provide comprehensive legal services to immigrant women survivors of domestic violence, sexual assault and stalking in a culturally competent and safe manner," Houlihan said.
The ISA Legal Program is funded by a grant from the Office on Violence Against Women (OVW), which is a component of the U.S. Department of Justice. One of the goals of the justice department is to reduce violence against women through the implementation of the Violence Against Women Act.
The federal grant will fund the ISA Legal Program from Oct. 1, 2010, to Sept. 30, 2012.
Potential clients for the DVI Clinic first contact L.U.N.A. or Polk County Crisis and Advocacy Services to request help, which may include legal assistance. Those organizations then contact the Drake Legal Clinic, where the DVI Clinic supervising attorneys then decide which cases are appropriate for the clinic and assign them to students.
The legal cases have already been selected for this semester. Students will begin working with their clients this month.