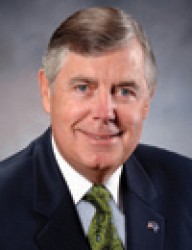 William T. Robinson III
Drake Law School's 74th annual Supreme Court Celebration will feature a keynote speech by William T. Robinson III, president-elect of the American Bar Association, on Saturday, March 26.
The Supreme Court Celebration banquet is a longstanding tradition at Drake Law School that honors the Iowa Supreme Court, student and alumni achievements and Drake's relationship with the Iowa courts and legal community.
This three-day event will include:
Drake Journal of Agricultural Law Dinner – Thursday, March 24, 6-9:30 p.m., Des Moines Club, 666 Grand Ave. $35 per person.
Drake Law Review Dinner – Friday, March 25, 6-9:30 p.m., Des Moines Club, 666 Grand Ave. $35 per person.
Drake Moot Court Luncheon – Saturday, March 26, 11:30-1 p.m., Des Moines Club, 666 Grand Ave. $30 per person.
Supreme Court Celebration Banquet and Awards Ceremony – Saturday, March 26, 5:30-8 p.m., Parents Hall, Olmsted Center, 2875 University Ave. $40 per person.
Robinson, who is scheduled to assume the ABA presidency in August, will be the featured speaker at this year's banquet and awards ceremony.
His many leadership positions on the bar include a three-year term as ABA treasurer, seven years on the ABA Board of Governors and a term as president of the Kentucky Bar Association.
He is the member-in-charge of the Northern Kentucky offices of Frost Brown Todd LLC, a regional law firm with more than 450 lawyers in nine offices located in Kentucky, Ohio, Tennessee, West Virginia and Indiana. He graduated from Thomas More College and the University of Kentucky College of Law, where in 2004 he was inducted into the Alumni Hall of Fame.
Additional information on the Supreme Court Celebration, including the banquet menu, can be found online. For more information, contact Leslie Herman at 515-271-3985 or leslie.herman@drake.edu.