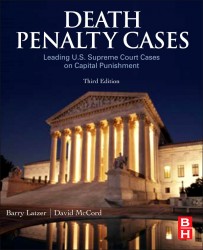 "Death Penalty Cases, 3rd Edition." Co-authored by David McCord and Barry Latzer.
David McCord, professor of law at Drake University, is co-author of a new text, "Death Penalty Cases, 3rd Edition ." Co-authored with Barry Latzer, the book has received high praise from other law professors and is becoming a recognized resource for those studying death penalty law.
"The process of co-authoring was illuminating," McCord said on collaborating with Latzer, a professor of criminal justice at John Jay College of Criminal Law in New York City. "I had never done that before and it was a great experience. Negotiating with another author was vexing, but the final product is certainly better than I could have done on my own. It is a truly outstanding experience."
The book is organized in five sections, adding to its comprehensiveness and readability. The sections include: Foundation Cases, Death-Eligibility, Death Penalty Trial, Post-conviction Review and Execution Issues. It provides an impartial stance on recent, significant cases such as Kennedy v. Louisiana and Baze v. Rees, while still considering cases dating back as far as 1968.
"Barry Latzer and David McCord's latest edition of 'Death Penalty Cases' breaks new ground in providing thoughtful and balanced analysis of all important legal issues surrounding the death penalty," according to Paul G. Cassell, the Ronald N. Boyce presidential professor of criminal law in the S.J. Quinney College of Law at the University of Utah. "For anyone who truly wants to understand the law surrounding capital punishment, 'Death Penalty Cases' is a 'must read.'"
Drake law students will have the opportunity to read the text in conjunction with the course, Death Penalty, which McCord will teach in the 2011 fall semester.
McCord joined Drake Law School in 1984. He completed his undergraduate studies at Illinois Wesleyan University and received a bachelor's degree in History. He earned his Juris Doctor from Harvard Law School. Prior to teaching at Drake, McCord worked as the Assistant Attorney General for the state of Arizona and has served on the Iowa Supreme Court Advisory Committee on Rules of Evidence.