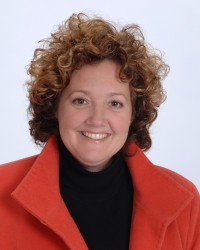 Diane Crookham-Johnson
Diane Crookham-Johnson, who graduated from the Drake Law School this past May, knows firsthand the opportunities and challenges that face a non-traditional law student. Now, in addition to her busy law practice, she's looking out for the interests of other non-traditional students by serving on the Drake Law School Board of Counselors.
Crookham-Johnson received her bachelor's degree from the University of Iowa in 1988. She then began a career at Musco Lighting, a manufacturing company based in Oskaloosa, Iowa, before enrolling in Drake's Law School in 2007.
"Law school had been my long-time dream," Crookham-Johnson said. "The opportunity presented itself, and my family and I decided it was time for me to return to school."
Balancing a heavy law school course load with her home life presented Crookham-Johnson with challenges. In order to be home with her husband and two children, she commuted more than an hour each way every day between Des Moines and her home in Oskaloosa.
"The distance between my two areas of responsibility also created unique challenges in scheduling classes and being involved in family activities," she said.
Crookham-Johnson said that, as a non-traditional student, her career path and life experiences helped prepare her for her law school education.
"Each student brings unique strengths to his or her law school experience," she said. "My work experience gave me a unique perspective on the importance of the legal system in the larger scheme of life, and my life experience helped me put into perspective the pressures that the first year of law school can create."
Since earning her law degree, she has established the Crookham-Johnson Law Office PLLC on the Oskaloosa town square, just across the street from the county courthouse.
"My longtime dream came to fruition when I opened the door on my own, solo practice," Crookham-Johnson said. "Thanks to Drake's wide variety of class offerings, professors who were able to bring their own law practice experiences into the classroom, the first-year trial practicum and numerous internship opportunities, I was as prepared as you can be for what to expect in private practice."
As a member of the Drake Law School Board of Counselors, Crookham-Johnson is now working to ease the paths of other non-traditional students.
"We've already had discussions about changes in the class schedule that would relieve some pressures for the commuting student," she said. "We have also discussed ways in which to provide mentoring opportunities specifically geared towards non-traditional students."