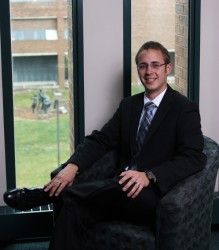 Cory McAnelly
The fall semester's group of Advanced Appellate Advocacy Clinic students — Alana Stamas, Bryan O'Neill, and Cory McAnelly — went three for three in their arguments in the Iowa Court of Appeals and Iowa Supreme Court.
In October, McAnelly had the opportunity to argue the case of State v. Halstead before the Iowa Supreme Court. The case, which involved inconsistent (or irreconcilable) jury verdicts, was supervised by Stephan Japuntich, assistant appellate defender for the state of Iowa.
There are two views throughout the federal courts and state courts. The majority of states and the federal courts adopt the view that inconsistent jury verdicts are not reviewable. The Iowa Supreme Court, however, adopted the minority view that inconsistent jury verdicts are reviewable, especially when they are irreconcilable.
Because Iowa does not, historically, review inconsistent jury verdicts, it seemed to McAnelly he had a slim chance of winning the case. So he honed in on the term "irreconcilable," arguing that the language applied to the State v. Halstead case if it applied to any at all. "It's like saying he wasn't guilty of a, b, and c, but he is guilty of a, b, c, d," explained McAnelly.
Iowa Supreme Court Justice Brent Appel stated that Halstead's verdicts were inconsistent and therefore reversed the charges against Halstead.
"My involvement revolved around reviewing the case file, the case history and drafting the argument with Mr. Japuntich and Professor Allen," McAnelly said. "We practiced over and over for a few weeks. Finally, I argued the case in front of the Supreme Court." (Justice Wiggins was absent.)
McAnelly said Justice Appel asked questions throughout the argument before eventually adopting the minority view. Had the Iowa Supreme Court chosen the majority view Mr. Halstead would not have been given a review of his verdicts and his initial conviction would have stood.
"We were asking for a very narrow holding," McAnelly said. "This verdict was so irreconcilable that it shouldn't stand."
The positive opinion of the court, written by Justice Appel, ruled in Halstead's favor. It was released in December.
The opinion prompted interest within the media. Following its release, Radio Iowa produced a segment titled "Supreme Court decision raises questions about inconsistent verdicts ."
"That the state of Iowa is willing to allow students to appear there and have that discourse with the Supreme Court is incredible," McAnelly said. "As a law student, it is very intimidating to argue in a court against attorneys with years of experience."