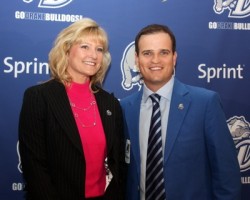 Alumni Lisa Behlmann Cannon and Zach Johnson are 2011 recipients of the Double D Award — the highest honor Drake bestows on its former student-athletes.
Drake University presented alumni Lisa Behlmann Cannon and Zach Johnson with the highest honor Drake bestows on its former student-athletes — the Double D Award — on Tuesday Jan. 25.
The Double D award is given to former letter winners for their achievements and contributions to their profession and community after leaving Drake.
Behlmann Cannon, who received a bachelor's degree in finance from Drake in 1980, was a 4-year letter winner for Drake volleyball in the 1977-1980 seasons. She earned her master's degree in business administration in 1989 from the University of Houston and in 2006 she completed the Executive Development Program at Harvard Business School.
Behlmann Cannon spent nearly 30 years in the high technology and professional services industries in the U.S. and abroad. She was based in Munich, Germany, from 1993-1996, leading European Marketing initiatives for Compaq Computer (now Hewlett-Packard).
She was subsequently appointed senior partner with Korn/Ferry International, a premier global provider of executive search and talent management solutions. She held a number of senior management roles, including European regional leader, managing director and member of the Corporate Global Operating Committee, before retiring in 2009.
"I had a wonderful time at Drake," Behlmann Cannon said. "I had a terrific experience
in athletics and a terrific academic experience and it's a combination of the two of
those that provided the foundation to do the other things in my career after
athletics."
Johnson, who graduated in 1998 with degrees in business management and marketing, played golf at Drake from 1995-1998. In 2007, he won the Masters Golf Tournament and represented the U.S. on the 2006 and 2010 Ryder Cup teams.
When heavy rains caused flooding in the Midwest in the summer of 2008, Johnson served as the spokesman on a public service announcement and held a one-day golf event in his hometown of Cedar Rapids, Iowa, that raised $350,000. In 2010, he announced the formation of the Zach Johnson Foundation to benefit children in need in Cedar Rapids.
"To receive this honor, this award is very humbling," Johnson said. "What I appreciate
about it is it puts things in perspective"¦ It's not just golf, it's more than
that… That was the platform to get us out in the real world and to equip us
with the right tools to make a difference. They're recognizing the fact that we're using what we
learned here in Des Moines at Drake to help others. I appreciate the Double D
award in that regard."
Drake hosted the traditional Double D Dinner followed by the award presentation at the Iowa Hall of Pride Theater in the Iowa Events Center in downtown Des Moines. Behlmann Cannon and Johnson also were honored at halftime during the Drake men's basketball game against Missouri State at the Knapp Center.
During a media timeout, the Iowa PGA Section presented a $50,000 donation to Drake University Golf on behalf of Johnson. The donation is part of the 2010 Ryder Cup Outreach Program, Play Golf America University, designed to teach and engage students in the game of golf through PGA professional instruction and other golf programs. Since its inception in 1999, the PGA of America has distributed more than $6.7 million to 50 participating U.S. colleges and universities on behalf of the U.S. Ryder Cup Team Members to support this initiative.
Watch Lisa Behlmann Cannon's Drake Love Story
Watch Zach Johnson's Drake Love Story