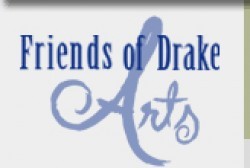 "Night of Stars" is sponsored by Friends of Drake Arts.
Drake University's fifth annual "Night of Stars" concert, which features performances both independent and collaborative by selected Drake music faculty, will be held on Friday, Jan. 28.
Free and open to the public, the event will begin at 8:00 p.m. on the Jordan Stage in Sheslow Auditorium in Old Main, 2507 University Ave.
Faculty members will perform an eclectic program, including compositions by Robert Schumann, Franz Liszt, Francis Poulenc, Antonio Vivaldi and Roshanne Etezady.
"This is a wonderful occasion to showcase the performance music faculty at Drake and an opportunity to listen to a variety of styles and genres," said Clarence Padilla, professor of clarinet and chair of the music department.
In addition to Padilla, participating faculty members are:

Jessica Anderson, staff accompanist
Edward Corpus, teaching artist of voice
Leanne Freeman-Miller, associate professor of voice
Cynthia Giunta, teaching artist of piano
Michelle Havlik-Jergens, staff accompanist
Leslie Marrs, assistant professor of flute
Sarah Plum, assistant professor of violin and viola
James Romain, associate professor of saxophone and assistant director of jazz studies
Nicholas Roth, associate professor of piano
Rika Uchida, assistant professor of piano and theory
Jennifer Wohlenhaus, teaching artist of double reeds
"Night of Stars" is sponsored by Friends of Drake Arts. For more information, call 515-271-3939 or visit the FDA website.