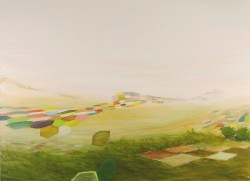 Matt Pulford, "Bailey and Benji" 2010 Acrylic on canvas 46 x 34 inches
What if Grant Wood had a digital camera? A new crop of contemporary paintings at Drake University's Anderson Gallery is curated around the concept of Midwestern regionalism re-imagined.
Middle States, which opens with a reception from 5-7 p.m. Friday, Jan. 28, brings together more than 30 paintings from six Midwestern artists whose work straddles traditional realistic representation and abstraction. Although working within the same media and geographic area, the artists of Middle States approach their work with stylistic individuality, making use of a variety of Midwestern source imagery. A colorful patchwork appears to float above a crazy-quilt of farm landscape in paintings by Matt Pulford. David Linneweh's small town streetscapes pop as they're deconstructed and redefined with abstract shapes and color.
"I think of these artists as taking up where Grant Wood and Thomas Hart Benton left off," says Benjamin Gardner, assistant professor of art and design at Drake University and the Middle States exhibition curator.
The pieces in the Middle States show all reference source information — from digital photographs to movie stills — and either peel away at or layer onto the original reference point until the resulting work exists in a dreamlike state of in-between. Gardner aims to highlight abstraction as a process — a verb — inspiring visitors to consider how deviating from the original imagery imbues each piece with a new meaning.
Middle States features the work of six Midwestern artists:

Michael Wille (Normal, Ill.)

David Linneweh (Chicago, Ill.)

Matt Pulford (Davenport, Iowa)

Amanda Smith (Bloomington, Ind.)

Gregory Euclide (Saint Paul, Minn.)

Kris Holmgren (Fairbault, Minn.)
This is the Anderson Gallery's first exhibition dedicated to contemporary painting since the fall of 2007 and the gallery's final curated show of the spring semester. For more information on related events please visit the Anderson Gallery website. All events are free and open to the public.
Middle States Opening Reception

Explore the new exhibition, mingle with friends and enjoy beverages and light appetizers.

When: Friday, Jan. 28, 5-7 p.m.

Where: Anderson Gallery, 2505 Carpenter Ave.