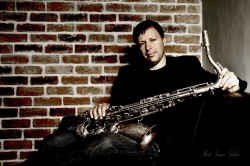 Chris Potter
Drake University will host a master class and concert by Grammy nominee and renowned jazz saxophonist and composer Chris Potter on Friday, Jan. 21. Both events are sponsored by the Civic Music Association of Des Moines.
The master class for Drake students, which is free and open to the public, will begin at 2 p.m. in the newly constructed Patty and Fred Turner Center, located in the Harmon Fine Arts Center, 25th Street and Carpenter Ave.
That evening, Potter's acclaimed jazz ensemble, The Underground Quartet, will perform a 7:30 p.m. concert on the Jordan Stage in Sheslow Auditorium in Old Main, 2507 University Ave. Admission costs range according to seating preference, and tickets can be purchased online.
Prior to the concert, Drake Associate Professor of Saxophone James Romain will lead a discussion on Chris Potter's rise to the topmost pantheon of contemporary improvising musicians. The talk will begin at 6:45 p.m.
"From his emergence as a young prodigy in Red Rodneys' quintet, to winning Denmark's Jazzpar Prize, to his recent work with Dave Holland and with his own Underground group, Chris Potter has firmly established himself as a potent improviser, effective bandleader and first-rate jazz composer," Romain said. "His influence on the current generation of young jazz musicians is profound, and Des Moines is extremely fortunate to be on his itinerary."


Drake will sponsor jazz concerts and workshops throughout January
The University, in conjunction with the Synergy Jazz Foundation of Des Moines, will host several jazz events geared towards community involvement and education throughout the month of January as part of its Drake Jazz Workshop and Concert Series at the Turner Jazz Center.
"Synergy connects public school students and the community with professional jazz musicians in the area, and now, through our collaboration with Drake, we can collaborate with Drake students and faculty members to become even more effective at promoting jazz education," said Bill Bergren, president of Synergy Jazz Foundation.
"The series will involve everyone from beginners to professionals, and Drake students will have a great opportunity to observe master teachers dealing with young students. They'll also have the opportunity to study and perform with world class artists and educators."
Several of the series events will feature saxophonist and educator Jack Wilkins, professor of jazz Studies at the University of South Florida and a longtime faculty member of the Jamey Aebersold Summer Jazz Workshops.
On Saturday, Jan. 22, Wilkins will conduct two jazz clinics in the Turner Center. Both sessions are free and open to the public. The first, which is designed for beginners, will take place from 9 a.m. to 11 a.m., and the more advanced session will take place from 1 p.m. to 3 p.m.
That evening, a concert in the Turner Center featuring the Sam Salomone Trio will be held at 7:30 p.m. Concert admission costs $10 per person, or $5 per student or senior citizen.
Interested local jazz enthusiasts of all skill-levels can participate in or observe a community jam session at the Turner Center on Sunday, Jan. 23. The event, which is free and open to the public, will take place from 1 to 4 p.m.
On Monday, Jan. 24, the Des Moines Big Band will perform a concert featuring several Drake University alumni and faculty members. The event will take place at 6:30 p.m. at the Adventureland Inn, 3200 Adventureland Drive, Altoona. Admission is $10 per person, or $5 per student or senior citizen.
Minors interested in participating in any of the series workshops must register by contacting Marilyn Dean at 515-271-2018 or jo.dean@drake.edu.
For more information on this series of jazz programming, contact Romain at 515-271-3104 or james.romain@drake.edu.