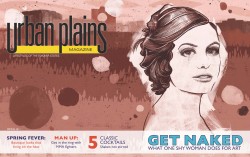 When senior magazine majors at Drake University met this fall to discuss their vision for a new publication, the wish list read like the promotion plan for big-budget, high-circulation fare:
Host fashion shows and photo shoots in Omaha, Minneapolis, Kansas City, Chicago and Des Moines, including at the top of the United States' tallest skyscraper
Produce media-rich content featuring sound and video
Promote to the Midwest using broad social media techniques and one of the first iPad applications for a college publication
In short, one thing was clear — a traditional print magazine wasn't going to cut it.
"Through discussion, it felt like we wanted something new and different," said Kate Baratta, a magazine and marketing major from Glenview, Ill. "Something that had never been done at Drake."
From this vision arose Urban Plains, an all-digital lifestyle magazine for the Midwest set that launched Thursday, Dec. 9.
The issue is available for download and live stream at http://www.urbanplainsmag-digital.com.
Baratta is editor-in-chief of the publication that includes articles on roller derby in Kansas City, beer brewing in Minneapolis, organic ice cream in Chicago and other content aimed at the 22- to 30-year-old set.
"We hope to appeal to young people doing fun things out in the world," Baratta said.
The digital format allows readers to flip through on their mobile phones, laptops or home computers. A plethora of short videos, photo slideshows, audio clips and hyperlinked content weave seamlessly into the design. Articles are easily shared to Facebook, Twitter and other social media tools.
A commercial for Urban Plains is available on YouTube at this link: http://www.youtube.com/watch?v=baJwJ3E15AQ.
"We're one of the first universities in the nation to have a fully multimedia-integrated digital edition of a student-produced publication," said Jeff Inman, assistant professor of journalism and supervisor of this bold foray into new media. "In forging this we had to rethink nearly everything we did — from the way we told stories to the way we put them on the page and promote them to the world."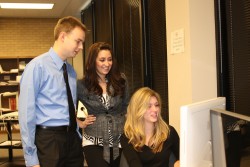 Rethinking everything
Until this fall, Drake's magazine capstone has published 5,000-copy
print runs under the names 515 and Think — the latter of which won a
prestigious Associated Collegiate Press Pacemaker award this fall.
Without sacrificing the skills required for print, Inman's staff of
10 students went further. They expanded their organizational structure
to include a multimedia editor, blogging editor and social
media-oriented director of marketing.
They did away with traditional print design tropes — left and right
inside pages separated by a fold — in favor of "double-truck" layouts
that span two full pages. In this way, the 60-page Urban Plains
publication covers the ground of a traditional 120-page magazine.
The cover is a red screen-print by 2006 Drake alumnus and artist
John Vogl of staff writer Allison Maze during her body art photoshoot.
It will shift from a double-truck layout to a vertical orientation when
viewed by mobile phone users and in the e-store.
Clicking on any of the cover blurbs zaps readers directly to the relevant feature story.
"It is a blessing that we're doing this online," said Multimedia
Editor Jess Hoffert, a magazine and broadcast news major from Winona,
Minn. "It ties in the print side of my magazine major with the
multimedia side of my broadcast studies."


Creating opportunities
A print magazine, for example, may not have afforded Hoffert the
opportunity to film a fashion shoot on the 103-story Skydeck of Willis
Tower in Chicago.
Or to embed video clips from the 2010 Flugtag competition in St. Paul, Minn.
Or to include links to 15 hip hop video clips for a feature story
slideshow on the 15th anniversary of Rhymesayers Entertainment, the
independent hip-hop record label in Minneapolis.
Or to display a video photo slideshow with commentary by Charlie
Wittmack, the Des Moines lawyer working on an 11-month, 10,000 mile
journey from London to Mount Everest, gathered via Skype while Wittmack
was in Uzbekistan.
Once completed, the entirety of the publication is sent to a
third-party company called Texterity — makers of digital magazines for
AARP, Better Homes and Gardens, Entrepreneur Magazine and other major
outlets — for processing.
"This really puts Drake at the forefront of media innovation," said
Inman, who worked as arts and entertainment editor for three different
weekly news publications between 1995 and 2001 and spent seven years
freelancing for major publications including Rolling Stone and Better
Homes and Gardens. "Our students are having to address the absolute same
questions people in the industry are now having to deal with, including
how to engage their audience in multiple formats and across multiple
platforms."


Learning to engage
With a publication aimed at thousands of people in seven major
Midwestern cities — an "exploding demographic" that may include readers
well beyond the intended audience — the Urban Plains staff has to rely
on more than coffee shop chatter to market themselves.
Senior magazines and English writing major Jami Bowen maintains the
publication's Twitter account, username @UrbanPlains, and Facebook fan
page, pushing out daily teasers and material from the staff blog, www.urbanplainsmag.com.
As of Dec. 10, they had 156 followers on Twitter and 284 fans on Facebook.
Bowen, a Des Moines native, wasn't a techno-socialite when she came
to Drake. She created her personal Twitter feed as a requirement of a
magazine writing class, mostly to promote her personal blog — also a
course requirement.
Faculty in Drake's journalism school are increasingly pushing new
media and social media tools as a precursor to careers in magazines,
newspapers and other bastions of journalism, said Lori Blachford, the
Peggy Fisher and Larry Stelter chair of magazine journalism.
"Because of changes in our industry and our technology, all of our
first-year students during their first semester of classes must take a
weekly lab to familiarize themselves with technology," Blachford said.
"They're not meant to be experts, but they want to be comfortable
holding these tools."
As they continue in their journalism track, students find themselves
submitting audio recordings of their interviews, presenting photos and
captions for travel articles, shooting and editing video profiles in
lieu of text stories and corresponding with their faculty members on
Twitter.
"It's the magazine experience on steroids," Blachford said. "It
allows students to jump into new forums in a really real way. If we can
teach these students to take a risk in order to start something new, I
don't know that we can do any better for them."