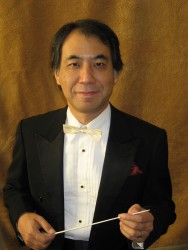 Akira Mori, assistant professor of music, serves as conductor of the Drake Symphony Orchestra.
The Drake Symphony Orchestra, under the direction of Akira Mori, will perform a concert on Thursday, Dec. 9.
The event, which is free and open to the public, will begin at 8 p.m. on the Jordan Stage in Sheslow Auditorium in Old Main, 2507 University Ave.
The orchestra will perform Mozart's Symphony No. 36, Kent Kennan's "Night Soliloquy" and Beethoven's Symphony No. 5.
For more information, contact the Music Department at 515-271-3975.