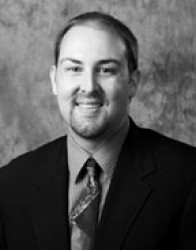 Grady McGrannahan directs the Wind Symphony.
Drake University's Wind Symphony and Concert Band will perform a joint concert at 8 p.m. on Friday, Dec. 3.
The event, which is free and open to the public, will be held in the Performing Arts Hall of the Harmon Fine Arts Center, 25th Street and Carpenter Avenue.
The Wind Symphony, under the direction of Assistant Director of Bands Grady McGrannahan, will perform:

"Awayday," written in 1996 by British composer Adam Gorb
"The logic of all my dreams," a movement from "Alchemy in Silent Spaces," written in 2000 by American composer Steven Bryant
"George Washington Bridge," written in 1950 by American composer William Schuman
"The Gum-Sucker's March," written in 1914 by Australian composer Percy Grainger
"Vienna Philharmonic Fanfare," written in 1924 by German composer Richard Strauss
"When selecting repertoire for this concert, I picked music that would be fun for the students to play that also represents a variety of different styles," said McGrannahan, who also serves as assistant professor of trombone. "Because the styles are so varied, the band has worked hard in order to respect and stay true to the spirit of each composer."
In addition, McGrannahan explained that while the music might be challenging, the students have risen to the occasion.
"Preparing this program has made the students better musicians, and this concert will demonstrate the strengths of the entire ensemble," he said.
The Concert Band, under the direction of Teaching Artist of Music Education Paul Brizzi, will perform:

"A Moorside Suite," written in 1928 by English composer Gustav Holst
"Colorado Peaks," written in 2005 by American composer Dana Wilson
"Star Spangled Banner," arranged in 2005 by American composer John Williams
"Symphonic Prelude," written in 1957 by American composer Alfred Reed
"Washington Post," written in 1889 by American composer John Phillip Sousa
For more information, contact the Music Department at 515-271-3975.