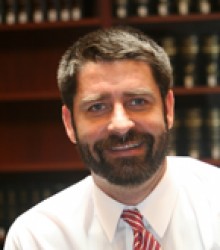 Ian Bartrum
On Thursday, Dec. 2, Ian Bartrum, assistant professor of law at Drake University, will participate in a panel discussion titled "The 2010 Judicial Retention Results: What Happened and Where Do We Go From Here?"
The event, sponsored by the American Constitution Society Iowa Lawyer Chapter, will start at 5:30 p.m. at the Des Moines Embassy Club, 801 Grand Ave.
In the Nov. 2 election, voters ousted Iowa Supreme Court Chief Justice Marsha Ternus and Justices David Baker and Michael Streit, all of whom were part of a unanimous 2009 decision that invalidated Iowa's one-man, one-woman marriage law and allowed same-sex couples to marry.
In addition to Bartrum, the panelists will be

Justice David S. Wiggins, Iowa Supreme Court
Troy Price, political director of One Iowa
R. Ben Stone, executive director, American Civil Liberties Union of Iowa
They will talk about the future of the state judiciary and the likely effects of the Nov. 2 election results on judicial independence.



The program is free and open to the public, although attendees are asked to RSVP at http://www.acslaw.org/chapters/lawyer/iowa/rsvp.
The American Constitution Society for Law and Policy (ACS) is a rapidly growing network of lawyers, law students, scholars, judges, policymakers and other concerned individuals. Its mission is to promote the vitality of the U.S. Constitution and the fundamental values it expresses: individual rights and liberties, genuine equality, access to justice, democracy and the rule of law.
The organization, founded in 2001, has established student chapters at more than 175 law schools around the country and lawyer chapters in more than 30 cities. For more information about ACS, visit www.acslaw.org.