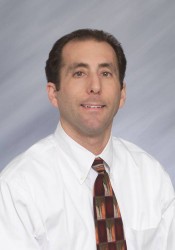 Drake pharmacy professor profiled in recent Des Moines Register interview
Edward Bell, professor of pharmacy practice, was recently the subject of a professional profile that appeared in the Des Moines Register. In the interview, which can be read online, Bell discusses how he has managed to combine his teaching duties at Drake with his interest in pediatric medicine.
[link:
http://www.desmoinesregister.com/apps/pbcs.dll/article?AID=201012010325
]
Bell, who serves as pediatric clinical specialist in the pulmonary clinic at Blank Children's Hospital in Des Moines, often invites Drake pharmacy students to observe his work with young patients.
"Most months of the year, I have two last-year students with me for five-week rotations at Blank," he said. "They're there to learn about how we use medicines in infants and children."
In addition to his teaching duties and work at the children's hospital, Bell regularly contributes to the pediatric news journal "Infectious Disease in Children."
"A common topic I write about is cough and cold medicines," he said. "Parents shouldn't assume that these medicines will work the same in a child as in an adult. Instead, I would recommend using a humidifier, warm liquids or a bulb syringe to siphon out a nose. Saline spray is also very safe. "
Within the space of his professional career, Bell said that he has noticed the expanding role of pharmacists within the medical field.
"Years ago, you thought of pharmacists as just filling your prescription," he said. "Now, pharmacists are taking blood pressure readings, poking your finger and checking your cholesterol, and seeing if you're using the right medicine. There are many new drugs in the past years, and we are better understanding how those drugs work in children and infants."
Bell is on sabbatical this semester, working on a book that will address misconceptions about medicines.