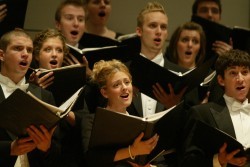 On Sunday, Nov. 21, Drake University's choral ensembles will perform a concert featuring music written by American and Canadian composers.
The event, which is free and open to the public, will begin at 3 p.m. on the Jordan Stage in Sheslow Auditorium in Old Main, 2507 University Ave.
Titled "Beyond Borders: A North American Partnership," the concert will include performances by the Drake Choir, Chamber Choir, Chorale and the Drake University Community Chorus. The Heartland Youth Choir Boychoir will also perform.
Carol Beynon, chair of graduate studies in education at the University of Western Ontario in Canada and artistic director of the Amabile Boys and Men's Choirs, will serve as guest conductor.



"I think most Americans know little about our northern neighbor," said Aimee Beckmann-Collier, director of choral studies at Drake. "This concert, and the chance to work with a prominent Canadian conductor, will afford our singers and audience a chance to learn about that country's rich artistic tradition, as well as to grow in our understanding of that country's perspectives on a number of issues."
Beckmann-Collier serves as director of the Drake Choir, Chamber Choir and Drake University Community Chorus. Barbara Sletto, teaching artist, conducts the Drake Chorale and the Heartland Youth Choir Boychoir.