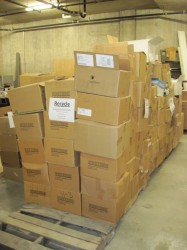 Students, faculty and staff members collected 27.4 tons of recyclable materials.
After two months of a campus-wide clean-up effort, Drake Facilities announced the winners of the University's first annual "Cleanin' Out the DogHouse" clean-up competition at an awards ceremony on Friday, Nov. 19.
During the competition, which ran from Sept. 27-Nov. 19, every building on campus had one week to clean out unwanted items. Two dumpsters, one for waste and the other for recycling, were placed outside the buildings and their contents were weighed at the end of the week.
By the end of the competition, 13.8 tons of trash and 27.4 tons of recycling had accumulated campus-wide.
Building winners were:

* Harmon Fine Arts Center with the most waste, roughly 5,000 pounds. Prize: building-wide pizza party.

* Opperman Law Library with the most recycled — 19,060 pounds. Prize: building-wide pizza party.

* Drake TeleMedia Center with the most e-waste. Prize: Target gift certificates.



A student representative accepts an award on behalf of the Phi Mu Alpha Sinfonia student music organization at the ceremony.
The clean-out initiative originated as a way to motivate faculty and
staff to clean unnecessary items out of their offices, classrooms and
storage spaces.
Several individuals submitted items for the different prize categories listed below.
Individual winners were:

* Phi Mu Alpha Sinfonia, a student music organization, with the largest item, a piano. Prize: $20 to the organization reserve account.

* Morris Mason, lead physics laboratory assistant, with the most unique item, a 5-foot slide rule from 1900, and the most enthusiastic award. Prize: University Book Store gift certificate.

* Kristi Fuller, assistant director of continuing student programs, with the oldest printed material. Prize: University Book Store gift certificate.

* David Hanson, information technology reference librarian and associate professor of librarianship, with the oldest picture of a current Drake employee. Prize: University Book Store gift certificate.

* Nancy Crittenden, associate treasurer of business and finance, with the oldest official Drake University document. Prize: University Book Store gift certificate.

* Lawrence Staunton, associate professor of physics, with the oldest technology. Prize: University Book Store gift certificate.

* John Stacy, facilities transport lead person, Craig Zika, heavy equipment operator, and Claudia Frazer, associate professor of librarianship, received helping hand awards. Prize: Starbucks gift certificates.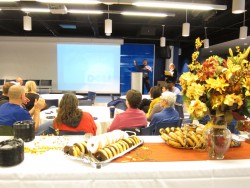 Participants accepted awards and enjoyed baked goods at the ceremony.
"We kept finding a lot of old junk stored in buildings," said Mark Chambers, director of facilities. "Storage space was getting short for many people. We hope this generates a lot more usable space for the future."
Items of historical significance to Drake were submitted to Cowles Library for the official University archives.
"I think it is amazing how much stuff our campus found and recycled during this competition," Chambers said. "It shows how Drake is truly becoming a 'green' university."



More photos are available at the Drake University flickr site.
For more information about "Cleaning Out the DogHouse," contact Mark Chambers at 515-271-3755 or mark.chambers@drake.edu.