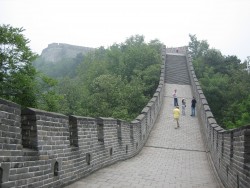 Alumni who teach in China often have the opportunity to visit the Great Wall.
Drake University will host informational sessions on the Teach in China Program for graduating seniors on Thursday, Nov. 18, and Wednesday, Dec. 8.
These sessions, which will include discussion by Drake graduates who have participated in the program, will be held from 3:30 to 4:30 p.m. and 8 to 9 p.m. on each date. Afternoon sessions will be held in Drake's International Center and evening sessions will take place in the Olmsted Center's room 131.
"Drake's Teach in China Program offers graduates a unique opportunity to explore the work environment, culture, people and language of China," said Kirk Martin, Director of the Chinese Cultural Exchange Program at Drake University.
Drake's Teach in China Program offers recent graduates from any academic background with any (or no) international or teaching experience or knowledge of Chinese the opportunity to live and work in China for a year. Twenty-five graduates will be placed to teach primarily English at either the secondary or university level in one of Drake's eight partner institutions found in five cities across China.
In the summer of 2010, China overtook Japan to become the second largest economy in the world. First-hand knowledge of and experience in China is quickly becoming a pre-requisite for advancement in many fields. Whether you are interested in teaching, gaining international experience or experience in China in particular, the Teach in China Program is unique in providing the needed preparation before departure and support after arrival, and by encouraging prospective participants to contact those Drake graduates currently on the program.