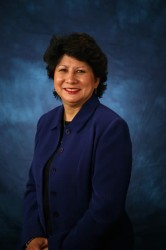 Robbie Melton
Drake University students, alumni and friends interested in starting businesses participated in a networking event in downtown Des Moines on Thursday, Nov. 18, as part of Drake's Entrepreneurship Week.
Entrepreneurship Week continues Friday, Nov. 19, with a speech by
Drake graduate Robbie Melton, director of entrepreneurial innovation
for the Maryland Technology Development Corp. (TEDCO).
Melton will present "Ideas, Invention, Innovation: Do You Have What it Takes to be an Entrepreneur?" at 10 a.m. in Parents Hall in Olmsted Center, 2875 University Ave. The event is free and open to the public.
In addition to serving as director at TEDCO, Melton is a co-founder of Women in Bio, a nonprofit organization dedicated to helping women in the life sciences industry create and build successful companies and advance in their careers.
Melton graduated from Drake in 1978 with a bachelor's degree in economics. She also holds a master's degree in science technology and public policy from George Washington University.