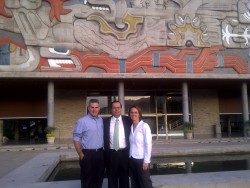 From left: Drake head football coach Chris Creighton, Monterrey Tech Student Affairs Director Enrique Ramos and Drake Athletic Director Sandy Hatfield Clubb.
Head football coach Chris Creighton will find out what Drake's historic visit to Tanzania for the Global Kilimanjaro Bowl holds in store on the football field following a visit to Mexico this weekend.
Creighton and Drake athletic director Sandy Hatfield Clubb are in Puebla City, Mexico, where the top two teams in the CONADEIP Mexican college football conference meet this today (Saturday, Nov. 20, for the 2010 championship.
But the visit to Mexico is about much more than a chance to scout the opposing team.
Hatfield Clubb and Del Christensen from the IRIS charity that is leading the Drake community initiatives for the trip to Tanzania also are visiting the Monterrey Tec campus. Drake Provost Dr. Michael J Renner is attending to continue to explore academic opportunities between the American and Mexican universities.
"The trip has far exceeded my expectations already!" said Hatfield Clubb. "The Tec Monterrey campus is beautiful and there is great synergy between the university system and Drake University's mission. Provost Renner and Dr. Troyer (Ron) are encouraged with the potential for future collaboration.
"The athletics facilities are quite impressive and the hospitality is extraordinary. I am fully reinforced that we have found the perfect partner for this incredible trip."
The group will receive a presentation in response to the welcome Drake gave their Mexican visitors on Oct. 23 when a CONADEIP delegation watched the Bulldogs' 42-10 victory over Davidson at Drake Stadium.
A CONADEIP all-star team will face Drake in Moshi, Tanzania, on May 21 next year, making history by becoming the first teams to play an American football game on African soil.
Many of the stars in the clash between the top-ranked UDLA Puebla Aztecas and Tec Monterrey, coached by Mexican college football legend Frank Gonzalez, will be in opposition when the Bulldogs line up in Africa.
"It will be a unique scouting opportunity," said Patrick Steenberge, Global Football President and architect of the Global Kilimanjaro Bowl. "Mexican teams are typically strong, physical and possess a dogged determination and this will be a good chance for coach Creighton to determine what he will be up against in May."
UDLA Puebla is coached by an American, Eric Fisher, who played in NFL Europe under former Boston College coach Jack Bicknell. His style of coaching has led to his team being ranked number one heading into the meeting against the traditional powerhouse Monterrey Tec.
The Drake party will fly to Puebla City on the Monterrey Tec chartered flight.
Creighton and Patrick Steenberge will attend Monterrey Tec and UDLA football team meetings to encourage them before their championship game day and will talk briefly about the Global Kilimanjaro Bowl.
The Drake visitors will be interviewed by ESPN, while attending the championship clash between Monterrey Tec and UDLA Puebla before returning home via Mexico City.