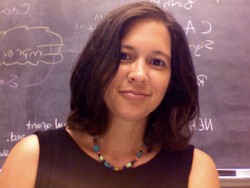 Renee Cramer
Renee Cramer, associate professor of law, politics and society, will give the final lecture of the fall 2010 Drake Center for the Humanities Colloquium Series on Friday, Nov. 19.
Cramer, the author of a 2005 book titled "Cash, Color and Colonialism: The Politics of Tribal Acknowledgment," will present her lecture at 3:30 p.m. in the Honors Lounge of Medbury Hall, 2730 Forest Ave.



The lecture, which is free and open to the public, is titled "Signs at Odds? Reading Law, Legitimacy and Authenticity in Tribal Demarcations."



Cramer's presentation will delve into the consolidation and enactment of notions of tribal legitimacy and authenticity through the construction of governance and representational spaces.



From the geographic boundaries of reservations, to the demarcations of "checker-boarding" within those lands, Indian territories require signs to enforce jurisdiction, alert newcomers to customary practices and establish homelands.



In addition, tribally owned public buildings offer spaces in which outsiders and tribal members meet, form relationships, enjoy leisure, govern and engage in business practices. Her talk will explore the tensions of authenticity, legitimacy and legality within these physical spaces.
Cramer, who holds a Ph.D. in politics from New York University, joined the Drake faculty in 2006. She teaches classes in American Indian Law and Politics, Reproductive Law and Politics, and Myths and Narratives of Law in Our Everyday.
The University's Center for the Humanities sponsors the ongoing colloquium series that features faculty members whose work involves questions and topics relevant to the humanities.