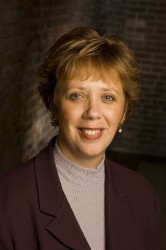 Raylene Rospond, dean of Drake's College of Pharmacy and Health Sciences, is the subject of a feature profile in the November issue of Des Moines Woman, a free monthly magazine published by The Des Moines Register.
In the profile, which is available online, Rospond discussed the career track that led her to higher education. Her first faculty position, at Creighton University in Omaha, fell into place after she and her husband moved to Omaha for a job he'd landed there. She joined Drake as associate dean of the CPHS in 1997 and was named dean in 2005.
"I found a lot of enjoyment out of interacting with students, and I realized that as a practicing pharmacist, I could impact patients one at a time, but if I taught, I could impact hundreds of patients through what my students would go out and do," Rospond told article author Brianne Sanchez.
Rospond also discussed the balance between work and family. The mother of four said she switched from pre-med studies to pharmacy courses after her father told her that hospital rotations may not be the best work routine for someone dedicated to raising a family.
Rospond told The Des Moines Register that many parts of her life are flexible, but that she isn't willing to sacrifice her relationship with her husband, her family or Drake University.
"You have to decide what are going to be the most important things to you," Rospond said. "You always have to keep reflecting and figuring it out."
Link to article: http://www.desmoinesregister.com/article/20101112/DMWOMAN/101111035/Dean-Raylene-Rospond-keeps-family-and-work-in-perspective