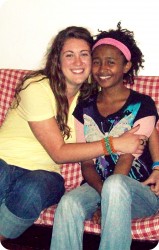 Pharmacy student Courtney McCarthy worked in an Ethiopian shelter for homeless and orphaned girls.
Five students in the Drake University College of Pharmacy and Health Sciences traveled almost 8,000 miles on a month-long service trip to the capital city of Ethiopia, Addis Ababa.
The students, all members of Drake student organization InterVarsity Christian Fellowship, gained firsthand knowledge of Ethiopian culture during the trip from July 6 to Aug. 8.
The students, several of whom maintained blogs during the trip, are:

Jill Murphy, a senior pharmacy major from Winterset, Iowa. Read her blog online.
Emily Hanson, a junior pharmacy major from Hampton, Iowa. Read her blog online.
Courtney McCarthy, a junior pharmacy major from Hastings, Minn. Read her blog online.
Erin Kelley, a junior pharmacy major from Andover, Minn.
Atalie Ferring, a senior health sciences major from Dubuque, Iowa. Read her blog online.
During their time in Ethiopia, the students were assigned to orphanages, group homes and shelters, where they volunteered and assisted aid workers.
"As a team, we built very strong relationships with the Ethiopians that we lived and worked with every day," McCarthy said. "It amazes me that even though we belonged to different cultures and spoke different languages, we came to love each other by the end of the trip. Ethiopia will always have a place in my heart."
The second-most populous nation in Africa, Ethiopia depends on foreign aid in order to combat widespread urban and rural poverty — residents suffer from diseases, poor sanitation and malnutrition caused by food shortages.
"Instead of focusing on the devastation, corruption or sickness in Ethiopia, we were inspired by the joy of its people and the country's ongoing restoration," said McCarthy, who worked in a shelter for homeless and orphaned girls. "Even though the girls' stories were devastating and heartbreaking, they were still able to feel joy now that they had each other and bright futures to look forward to."
McCarthy credited Drake's global citizenship mission for providing service opportunities for students.
"Drake offers lots of ways for students to get involved in philanthropic organizations and, through those organizations, serve their immediate communities and reach out to the world," she said.
Ferring agreed with McCarthy's assessment, praising the University and the trip for broadening her global consciousness.
"I think Drake does a great job encouraging students to go abroad and explore other cultures," Ferring said. "I am so thankful that I had the opportunity to travel abroad and explore another culture. The trip has helped me grow as an individual, in ways that I never imagined, and I have become a better person as a result."