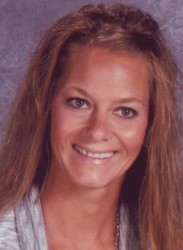 Drake School of Education Counseling Alumna Careyanne Wood was awarded the John L. Thompson Award for Excellence in School Counseling in a ceremony held at the ISCA Conference at the Airport Holiday Inn in Des Moines on November 9th. She was nominated for the award by her school principal David J. Miller of Preston High School and works for the Preston School District as a K-12 counselor and serves approximately 360 students.
The John L. Thompson Award for Excellence in School Counseling is designed to recognize counselors who have developed exemplary programs to help students grow in academic and/or life skills. The nominations and applications are reviewed by a panel consisting of at least three Iowa School Counselors' Association members appointed by the executive board and two outside readers. The award includes an honorarium for the counselor of $300 to be used at the counselor's discretion and an award of $300 to the school for the purchase of materials for the program.

The award is being funded for the first ten years by a gift from the John L. Thompson family as a tribute to his vision as Director of Guidance and Counseling and Students at Risk at Heartland Area Education Agency, his service to the Iowa Counseling Association, and his mentoring of counseling practicum students as an adjunct professor at Iowa State University.
Wood is married with two children Jaysie Anne -7; Josie Rae- 4 and is currently preparing to sit for the CRCC exam toward becoming a licensed Mental Health Professional.