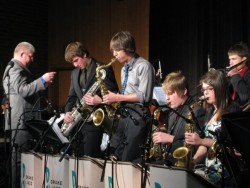 Members of Jazz Ensemble One perform at Fred Turner's party last year.
Drake University's Jazz Ensemble One will travel to Hamburger University, home office of McDonald's Corp. in Oak Brook, Ill, on Friday, Nov. 12, to perform at an annual party hosted by Drake alumnus Fred Turner, retired senior chairman of McDonald's.
Under the direction of Andrew Classen, the Fred and Patty Turner professor of jazz studies, the ensemble will perform an eclectic program for an audience of more than 300.
"What's amazing about the party, beyond all of the wonderful food, is how attentive and appreciative the audience is," said Classen, whose position was endowed in 2008 by a $1 million contribution made by Turner to the University's jazz program. "The jazz band isn't background music, it's the featured element of the party. This elevates the band's performance and makes the event very special."
Classen said that the party and concert provide a chance for the band members to express their gratitude to Turner for his support of the program.
Turner attended Drake from 1951 to 1953 and received an honorary Doctor of Law degree from the University in 1983.
"The students have been directly impacted by his support," Classen said.
"They get to show their appreciation, and Fred gets to interact with
the students. Every time the band is around Fred, he just lights up."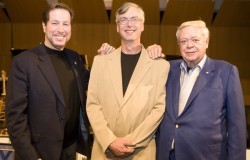 President David Maxwell, Andrew Classen and Fred Turner.
In addition to the endowed professorship, Turner has provided the
University's jazz program with a $1.5 million gift to build the Patty
and Fred Turner Jazz Center, a 4,600-square-foot facility adjoining the
Harmon Fine Arts Center.
The building, due to be completed in late November, will include a main
hall; a classroom; and Patty's Place, a 70-seat jazz club and coffee
bar named after Turner's late wife Patty, a Drake graduate. Also included is a state-of-the-art 40-channel recording studio.
Earlier this year, the ensemble's two-week European tour was
partially supported by Turner, who donated $1,900 towards the cost of
each student's travel expenses. Read more about the trip online.
Alto saxophonist Carliann Conner, a sophomore music performance and
education double major from Urbandale, Iowa, said that the jazz program
has been profoundly impacted by Turner's contributions.
"It's wonderful how much Mr. Turner supports the jazz program at
Drake," Conner said. "The improvements and opportunities he's provided
benefit current student musicians and draw prospective students to our
program."
Roland Hart, a sophomore music and psychology major from Cedar
Rapids, Iowa, said that the band has been working hard in preparation
for Turner's party.
"Professor Classen has chosen a diverse and challenging program for
the concert, and the whole band is excited to perform," said Hart, who
plays tenor saxophone. "Last year, the audience was so appreciative — I
am glad that we have an opportunity to play at Mr. Turner's party
again."
Drake President David Maxwell will join the band to perform a guitar
solo on "Blues for Jimmy," a tune composed by Classen and named in
memory of Maxwell's father, renowned trumpeter Jimmy Maxwell.
Roger Ingram, former lead
trumpet with Harry Connick Jr.'s orchestra, will also join Jazz Ensemble
One to perform a solo on Frank Foster's "Who Me?"
Ingram, a well-known jazz musician and educator, previously performed
with the band at a concert held earlier this year.
Drake Jazz Ensemble One will also perform:

"Time Check," written by Don Menza
"West Side Story," arranged by Bill Reddie
"Big Al's Motown Adventure," written by Classen
"Never Bird," written by Ray Brown
"Come Rain or Come Shine," written by Harold Arlen
"The Crawfish Stomp," written by Eric Richards
"La Nina Nueva," written by Matt Harris
"You're My Everything," arranged by Thomas Matta
"Rocking in Rhythm," written by Duke Ellington, Irving Mills and Harry Carney