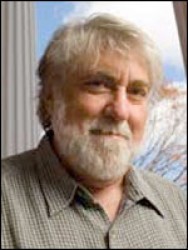 Mark Rudd
The Drake University Cowles Library series "Citizens Arise!" will launch its second year of programming with an event featuring Mark Rudd, a widely known radical student activist in the 1960s.
The event will be held Monday, Nov. 8, at 7 p.m. in the Reading Room of Cowles Library, 28th Street and University Avenue. This year's activities will revolve around the theme of "Responsible Discourse and Dissent."
Rudd is the author of the book "Underground: My Life with SDS and the Weathermen." He will speak about his role in the anti-Vietnam War protests in the 1960s as a former organizer for the Students for a Democratic Society and co-founder of the militant Weather Underground Organization.
Drake's "Citizens Arise!" series is a multi-year initiative that aims to inspire students, teachers and citizens to responsible citizenship.