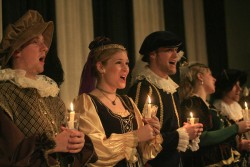 Tickets to this year's
Madrigal Christmas Dinners
will be available for purchase from Monday, Nov. 8, through Nov. 23.
The dinners will be held at 7 p.m. on Saturday, Dec. 4, and Sunday, Dec. 5, and will feature a six-course Renaissance feast, a concert by the Drake Chamber Choir and performances by strolling minstrels, jugglers and dancers.
Tickets cost $50 and may be purchased by calling the Drake Fine Arts Box Office at 515-271-3841.
For more information, contact Aimee Beckmann-Collier, professor of conducting, at 515-271-2841 or aimee.beckman-collier@drake.edu.