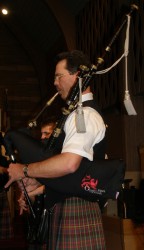 Dr. Peter Heineman performs in a 2010 concert.
Peter Heineman graduated from the Drake University School of Education with an Ed.S. in 1991 and an Ed.D. in 1997. During that period, he was the Director of Conferences and Community Programs for the University of Nebraska at Omaha College of Continuing Studies. Since then he has been employed as the Director of the Workforce Development Institute and the Director of Institutional Research for Metropolitan Community College in Omaha, Nebraska. Currently he is the Director of Quality Assurance Programs for Bellevue University in Bellevue, Nebraska where he oversee the institutions accreditation process.
This story begins in 2000 when, as a New Years Resolution, he contacted the Omaha Pipes and Drums to learn to play the Highland Bagpipes. "I had always been intrigued by Celtic music and the bagpipes in particular.", Heineman stated. The Omaha Pipes and Drums is a registered non-profit 501.C3 teaching organization providing free highland bagpipe and drumming lessons. He had an instrumental and vocal background so presumed that learning a new instrument would be no great challenge; especially considering the bagpipes only has nine notes. It was more difficult than he imagined.
You do not start off on the bagpipes. You begin on a practice chanter, an instrument that looks similar to a recorder. After learning the finger positions for the nine basic notes, scales, etc. you learn simple and compound embellishments. These have names like tachum, leumluath, and taorluath and are what make piping unique. It has been said that seven years go to the making of a piper, and seven generations go before the seven years. "But nine months later, I had progressed to a full set of pipes and was marching with the band in my first parade."
The Band competes in a number of regional competitions each year where he competes as a soloist in both classical (Piobaireachd) and light piping. In 2004, he competed with the band in North Berwick, Bridge of Allen, and Glasgow, Scotland where they finished 7th in the preliminaries of the World Pipe Band Championships. The Band has also provided a free public concert each year since 2002. Heineman sets the program, selects the tunes, and writes the script.
In 2007 the Band elected a new Pipe Major and Heineman was appointed Pipe Sergeant. The Pipe Sergeant is the number two person in charge of the pipers in a pipe band. In terms of seniority, the Pipe Sergeant is secondary only to the Pipe Major, who is the director of bagpipe music in a pipe band. A Pipe Sergeant shares much of the Pipe Major's responsibilities in tune selection, compilation and arrangement. They are responsible for tuning the band before a performance.
To bolster participation and communication, he began sending out weekly emails to the piping students with notices and a topic of interest. This evolved into his development of the Highland Bagpipe Tutor, a Student Manual which provides their band with a structured format for instruction. Now in its second edition, the Tutor and support materials have been provided at no cost to other bands in the United States and overseas for incorporation into their instructional programs.
The weekly emails and questions from students about specific tunes resulted in his authoring Behind the Tunes. Originally printed in three volumes and now given out on CD, the collection encompasses over 200 traditional and modern piping tunes. Each page contains information about the tune, lyrics (for those tunes that have them), the music, a printable copy, a "midi" sound file of the tune, and a downloadable version in Bagpipe Writer software. In the same format, Tunes of Glory is a collection of more than 60 traditional Christian hymns arranged for Highland Bagpipe. Copies of the CDs are given to every student and are made available at no charge to other bands and pipers upon request.
This year, he began publishing an online newsletter for band members, supporters and enthusiasts that can be downloaded from the Band's website and is writing an instructor's manual to accompany the Tutor.
Heineman's joy from this ongoing project comes from teaching, "My greatest pleasure is having pipers who I have helped as students beat me in solo competition."