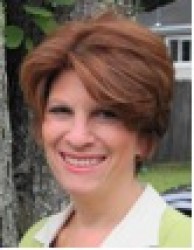 Dr. Jessica Greenwald O'Brien
On Wednesday, November 3, approximately 100 Drake students and community members attended a lecture entitled "Immigrant and Refugee Children: Bringing a Cultural and Trauma Sensitive Lens to Classroom and Counseling Settings" by Dr. Jessica Greenwald O'Brien of Massachusetts. The talk, with its emphasis on serving K-12 students, was the result of a first-ever collaboration between the Drake School of Education and the Center for Global Citizenship. Dr. Shelley Fairbairn, SOE Assistant Professor, worked with Dr. Darcie Vandegrift, Interim Director of the Drake Center for Global Citizenship, to orchestrate the presentation focused on education issues.
In her talk, Dr. Greenwald O'Brien provided attendees with essential food for thought related to the ways in which students may experience and be impacted by trauma. She offered two frameworks: one for considering the needs and realities of students of trauma and the second for use in better shaping classroom instruction and interactions in order to serve the needs of traumatized youth.
Dr. Fairbairn commented that "Although I am a veteran teacher of immigrant and refugee students, Dr. Greenwald O'Brien's talk helped to broaden my understanding of how to best serve these students in K-12 settings. I plan to incorporate information from her talk into ESL endorsement coursework here at Drake."