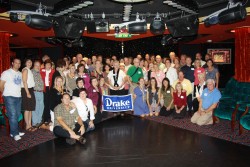 Drake alumni and friends gather for a reception on the MPA reunion cruise.
Nearly 80 Drake alumni and friends of Drake enjoyed some fun in the sun in late September as part of the Master of Public Administration reunion cruise.
The Mediterranean cruise began in Venice, Italy, and traveled to several Greek Islands.
According to Ken Meyer, the Thomas F. Sheehan Distinguished Professor, the cruise was a way to reach out to the more than 1,500 graduates of Drake's MPA program and provide a time for those individuals to reunite.
"The cruise provided MPA graduates with the opportunity to reconnect in a meaningful way, revitalize the Drake experience and pass it on to future students and the rest of the Drake family," Meyer said.
The trip was also a logical extension of the MPA program's emphasis on international understanding.
About 11 years ago, Meyer started teaching the course "Comparative Management and Policy Analysis in a Global Context," which included a study abroad component. Each year, the course tackles a different theme. In 2005, the course received the Silver Award for Environmental Best Practice from the Green Foundation presented in the British Houses of Parliament. The theme in 2005 was "Green Urbanism."
During the cruise, the participants had the opportunity to continue to expand their cultural horizons through historical excursions to various Greek Islands. Drake also hosted a reception for MPA alumni. During the reception, alumna and National Alumni Board member Shawna Kasner-Hannam, AS'97, GR'00, honored Meyer with a poem.
"I respect and admire Dr. Meyer and found him to be the backbone of the MPA program at Drake when I was a student," she said. "When I learned that Drake was planning to host a trip to the Greek Isles for MPA graduates and honor Dr. Meyer on the cruise, it seemed too good to be true."
She added, "The Greek Isle trip was truly a trip of a lifetime, and I am grateful to Drake for supporting this fantastic opportunity."