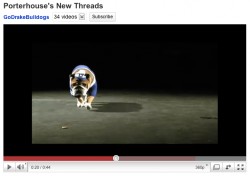 Watch the video embedded in the newsletter below.
Porterhouse, Drake's first live mascot in decades, sports a brand new costume this fall, strutting his bulldog stuff in a vintage-style blue-and-white letter sweater and beanie.
The costume, created by Instructor of Theatre Arts Josie Poppen, marks Porterhouse's entry into his official mascot duties, where he will entertain and befriend Bulldog fans at Drake events throughout the year.
More than 500 people have watched a YouTube video where Porterhouse made his modeling debut.
Porterhouse's official mascot duties began late this summer, but basketball season is when he'll truly shine. He appeared at the first women's basketball on Monday, Nov. 1, and is scheduled to appear at the first men's game on Saturday, Nov. 6.
Porterhouse began his relationship with Drake as the 2009 Drake Relays Most Beautiful Bulldog. He spent his tenure as Most Beautiful Bulldog endearing himself to Drake alumni, students, faculty and staff, who clamored to maintain Porterhouse's official place at Drake.
His owners — Kevin Bell, a Drake law student and president of the Student Bar Association, and Erin Bell, a Des Moines nurse — have taken it upon themselves to bring him to all sorts of events, from sports games to National Alumni receptions to Drake Day at the Iowa State Fair.
This mascot rarely misses a party, and with his new costume he makes a more stylish appearance.