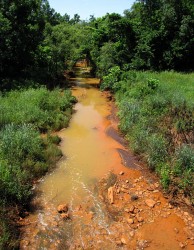 Sulfuric acid turns Tar Creek's water bright orange.
Drake graduate Tanya Beer and her husband, Matthew Myers, have created a documentary film exploring what they call "the worst environmental disaster you've never heard of."
Beer, a 1996 English, rhetoric and communications major, and Myers screened their feature-length documentary, "Tar Creek," Nov. 1, in Bulldog Theater. A discussion followed the screening.
"Tar Creek" outlines the devastating effects of an abandoned lead and zinc mine on a 40-mile swath of northeast Oklahoma. The contaminated Tar Creek area is rife with lead and cadmium. Sulfuric acid turns the water bright orange. Studies have linked the contamination to health problems in residents.
"This documentary is about how the town got that way," Beer said. "It looks at different parts of the environmental damage, the politics of how you get people out of that situation and how you treat them fairly and with dignity in the process."
Documentary calls attention to industrial pollution
Viewers should have come away with a greater understanding of environmental justice and the need to correct the wrongs against certain communities due to industrial pollution, said Nancy Reincke, associate professor of English and director of the women's studies program at Drake.
"They may also want to search the Web for Superfund sites in Polk County or their hometown to find out what we all have in common with the people of the Tar Creek area in Oklahoma," said Reincke, who helped to coordinate the screening at Drake. "Although manufacturing jobs have migrated overseas, the job of cleaning up after many industries is still with us."
The federal government launched a major environmental project, commonly known as Superfund, to clean up the area in 1980, but the effort fell short. Today, an area that was once home to thousands of people has a population of 6.
Tar Creek described as "America's Most Toxic Town"
The disaster has been the subject of media attention, including a recent article in Wired magazine headlined "Welcome to Armageddon, USA: A Tour of America's Most Toxic Town."
Beer said that her husband, a writer who grew up near the Tar Creek area, decided words failed to convey the gravity of the situation. He spent three months capturing video interviews from people in the Tar Creek area, including members of the Quapaw tribe whose reservation lies on contaminated grounds.
Then, Myers taught himself to edit video and developed a draft of the film, which is set to appear in 52 cities courtesy of a nonprofit group called Filmsprout.
"People who see the film always ask what they can do to help," Beer said. "There isn't much to be done in Tar Creek, now. The reason my husband made this film is so more people would pay attention to the relationship between industry and the environment."
Beer produced the film, largely through donations from friends and family. Prior to her work on the film she taught in Mozambique and worked for the Colorado state government on program evaluation. She now works for a think tank in Washington, D.C., that advises philanthropists on how to maximize the impact of their donations on the social problems they hope to solve.
"My experience at Drake taught me to think critically about the world that I live in and to engage with it at all times," Beer said. "I think that's a pretty great thing to take away from an education."