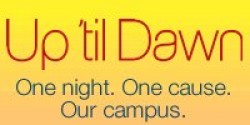 Students in Phi Delta Chi, Drake University's professional pharmacy fraternity, will host the second annual Up 'Til Dawn fund raising event on Friday, Nov. 5.
The event will begin at 6 p.m. on Friday and last until midnight at the Drake Bell Center, 1421 27th St.
Up 'Til Dawn will feature performances by the band EGG and comedian Derek Hughes. Individuals can also participate in a hot wing eating contest sponsored by Buffalo Wild Wings, and other activities will offer prizes including gift certificates for local businesses and restaurants.
Participants, who will also receive a free t-shirt, are asked to bring 50 mailing addresses of relatives and friends, who will be contacted with requests for financial donations.
The donations will go directly to St. Jude's Children Hospital, a non-profit organization dedicated to the advancement of cures and prevention of pediatric diseases and cancers through research and treatment. No child is denied therapy based on race, religion or a family's ability to pay.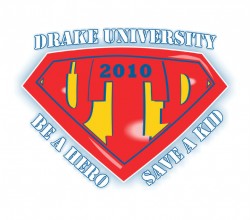 Ryan Anderson, who serves as co-advocacy chair for the event, said that last year's successful benefit inspired the fraternity to make Up 'Til Dawn an annual fundraiser.
"This year, we became dedicated and passionate about further involving the Drake campus and community," said Anderson, a second year pharmacy student from Waukesha, Wis. "Our hope is to continue the expansion and awareness of the event while raising money for St. Jude and their cause."
Phi Delta Chi members are hoping to raise $30,000. Any individuals who are willing to donate funds directly towards this goal can do so by visiting: https://waystohelp.stjude.org/sjVPortal/public/event/page/displayEventPage.do?eventId=116844&programId=1101.
For more information, contact Curt Orchard, executive director of Up "˜Til Dawn, at 262-366-7066 or curtis.orchard@drake.edu.