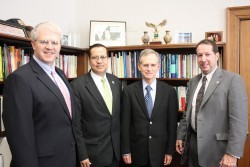 Michael Renner, Carlos Mijares Lopez, Jesus Enrique Ramos Resendiz and David Maxwell pose for a photo after their meeting.
Two officials from Technologico de Monterrey, one of the leading private universities in Mexico, recently visited the Drake campus to explore potential partnership opportunities with Drake leaders.
Technologico de Monterrey's football team competes in the CONADEIP Conference, which will field an all-star team from Mexico that will play Drake's football team in the inaugural Global Kilimanjaro Bowl on May 21, 2011.
The bowl, which will be held under the shadow of Mt. Kilimanjaro in Moshi, Tanzania, will be the first American collegiate football game ever played on the African continent.
Drake President David Maxwell and Provost Michael Renner met with the Mexican academic leaders — Vicerrector Academico Carlos J. Mijares Lopez and Director de Programas Interacionales del Sistema Vicerrectoria Academica Jesus Enrique Ramos Resendiz.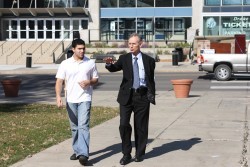 Student Ambassador Victor Cedeno conducts a campus tour for Jesus Enrique Ramos Resendiz.
Mijares and Ramos also held discussions with leaders of Drake's
athletic programs and watched the Drake football team beat Davidson
University 42-10 in Drake Stadium.
"We are discussing the possibility of collaborative programs that would
provide quality educational opportunities for our students and theirs,
as well as other benefits such as cultural exchanges and the possibility
of faculty collaboration," Provost Renner said.
"It's consistent with our mission promise that our students learn to
be responsible global citizens that we constantly seek out partnerships
with appropriate partner institutions in other countries. We look
forward to continued discussion to explore these areas of common
interest with our colleagues from Technologico de Monterrey."
Renner and Ron Troyer, Drake senior counsel for international
initiatives, plan to travel to Technologico de Monterrey later this
month to continue discussions with university officials there. They also
may join Drake Athletic Director Sandy Hatfield Clubb and Drake Head
Football Coach Chris Creighton in attending the CONADEIP championship
football game at Monterrey on Nov. 19 or 20.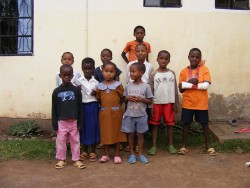 Children at the Kitaa Hope Orphanage, where student-athletes plan to build an addition.
Drake, Mexican football players to join forces in community service
The trip to Tanzania will begin on May 17, 2011. Following two
practices, a football clinic for local youth and a photo safari, the
Bulldogs and the Mexican All-Stars teams will meet on the field May 21,
2011.
After the historic game, players from both Drake and the CONADEIP
All-Stars will be doing community service projects in and around Moshi.
The primary project will be working at the Kitaa Hope Orphanage in Moshi
with children between 4 and 12 years old, while also constructing an
addition to the orphanage.
The orphanage service project will be coordinated through the
efforts of Iowa Resource for International Service (IRIS), an Iowa-based
nonprofit organization based in Ames, Iowa. Since 2007, IRIS has
coordinated the exchange of more than 70 high school students from
Tanzania through the U.S. State Department's Kennedy-Lugar Youth
Exchange and Study Program.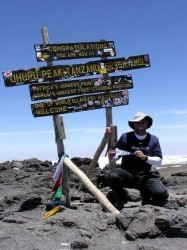 Jeff Clubb, husband of Drake's athletic director, displays a Drake pennant at the Mt. Kilimanjaro summit.
During the final phase of the trip, football players and coaches
from both teams plan to climb the imposing 19,340-foot Mount Kilimanjaro
— the tallest mountain in Africa. The teams will ascend Mount
Kilimanjaro by different routes, culminating their climbs by meeting at
the summit and hoisting their respective university and national flags
in a moment sure to be captured by media worldwide and celebrated by
everyone connected with these teams and their universities.
Global Football, a Texas-based football events organization, is
coordinating the trip. Patrick Steenberge, president of Global Football,
has produced football events in 18 different nations since 1996,
working with groups such as the NFL, Notre Dame, Penn State, Super Bowl
Host Committees, the American Football Coaches Association, Pop Warner,
USA Football and national American football federations around the
globe.
Drake officials are recruiting sponsors and raising funds to make the trip possible. Costs include:

Air transport of personnel for teams from USA and Mexico,
approximately 50 players and 20 staff per team, game officials (6), and
operations staff (4)
Air transport of team and personal football equipment
Youth footballs, jerseys, flag sets and shorts to give to the youth of Tanzania
Kilimanjaro guiding service fees for both teams
Accommodations and meals in Moshi
Local transport in Moshi and Tanzania
Educational photo safari
Youth orphanage charitable support in Moshi
Television special production and placement fees
Overall operations
Donors may contribute by visiting godrakebulldogs.com. Those who contribute will:

Play a key role in sporting history
Demonstrate support for student-athletes doing something very special
Foster a much-needed partnership between entities from the United States and Mexico
Help serve the country and people of Tanzania
Family and fan travel packages are available through Anthony Travel.
They will include round-trip airfare, accommodations, local tours,
service projects, a photo safari, game admission and more.
For further information, contact Anita Freeman with Anthony Travel at 866-913-7169 or anita.freeman@anthonytravel.com.