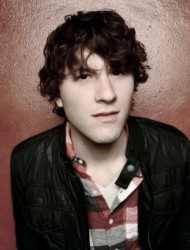 Josh Tomme
After two years of determined job searching in the highly competitive entertainment industry, Josh Tomme, BN'08, defeated more than a 1,000 candidates for a position as marketing assistant for the Academy of Motion Picture Arts and Sciences.
"Everything seemed to fall into place," said Tomme, originally from Hastings, Minn. "I am now working my dream job, doing creative marketing for the most iconic brand in the movie industry. I'm thrilled."
After an initial interview with the organization's digital marketing manager, Tomme assembled a presentation that would demonstrate his creativity, digital marketing knowledge, graphic design skills and enthusiasm for the Academy.
Tomme's project, "Oscars+Foursquare," which envisions a partnership between the Academy Awards and various social media tools, can be viewed in .PDF form online.
As a marketing assistant, Tomme aids the Academy's director of marketing with Oscars branding initiatives, sponsorships and event planning. He also manages e-commerce for Oscars merchandise and collaborates with the digital marketing manager on the Academy's interactive, mobile and social marketing projects.
Previously, Tomme assisted producers on shows for MTV, NBC, ABC and Bravo. He has worked on music videos for Mariah Carey and Miley Cyrus, and on the Product (RED) campaigns for Gap and Starbucks.
"I had incredible professors at Drake who acted as professional mentors," said Tomme, who received the College of Business and Public Administration's Pappajohn Entrepreneurial Passion Award. "The Drake experience — taking great classes, getting involved in student organizations and working on campus — helps you become a productive member of post-college society."
Tomme cited Assistant Dean Randy Blum, Associate Professor of Philosophy Jennifer McCrickerd and Assistant Professor of Practice in Marketing Mary Edrington as his mentors at Drake.
"Josh was a student in several of my courses as well as an advisee," Edrington said. "He is very creative, entrepreneurial and inquisitive, and he has definitely been able to apply these talents and the marketing and promotional skills he learned at Drake in his career. It's very exciting to watch Josh achieve his dreams."