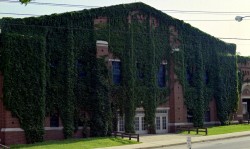 A 1973 photo of the Women's Gym building, which was razed years ago.
Alumni have contributed several valuable and interesting photographs to a student-produced wiki project that is designed to chronicle Drake's history.
Students in the first-year seminar course "Drakepedia "" Building a Living Archive" sent a solicitation in the September issue of eBlue for photos of current or razed Drake buildings prior to 1990.
"We were very excited to receive photos from alums," said Susan Breakenridge, coordinator of administrative services at Cowles Library, who is teaching the course alongside faculty member Claudia Frazer.
"When the students are able to see a different time on 'their' Drake campus through the photos, they become more curious. They try to figure out where razed buildings once stood or ponder what the inside of those building might have looked like."
Among the most notable responses: a photograph, taken in about 1973, of Women's Gym. Phil Leeson, AS'76, submitted his photo of the building, which was razed years ago.
Leeson also submitted photos of eight other buildings and the Drake University welcome sign.
"I attended Drake from 1972 to 1976 and met my future wife there in 1973," Leeson said. "My three daughters attended as well, from 1999 to 2008. Seeing the many changes over the years stimulated a search through my old pictures from the '70s."
A story about Drakepedia will appear in eBlue when it is ready for public debut. Meanwhile, students are still taking photo submissions. The photos need to be from your own personal collection, not taken by a professional photographer.
A previous submission deadline of Nov. 18 has been pushed back to Friday, Dec. 11 — students are designing the wiki so that readers will have the option to edit the information on their own once the site is public.
You may e-mail scanned copies of the photos, along with your contact information, to susan.breakenridge@drake.edu or you can mail them to:
Susan Breakenridge

ҬCowles Library

ҬDrake UniversityӬ

2507 University Avenue

ҬDes Moines, IA 50311
Mailed photos will be returned; however, Drake is not responsible for any lost or damaged photographs.