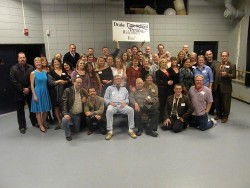 Bill and Linda Coleman (middle front) pose with a group of alumni who attended the theatre reunion in late October.
Drake theatre alumni flocked to campus for a lively reunion Oct. 22-23.
Linda Coleman, FA'76, said the weekend was "wildly successful."
"All of us are still floating," said Linda. "Everyone said it was a once in a lifetime event."
True to tradition, Linda, along with her husband, Bill Coleman, professor emeritus of theatre arts, hosted a cast party at their house near Drake's campus on Friday night. The couple hosted numerous cast parties while Coleman worked at Drake from 1966 to 2002.
Nearly 150 theatre alumni from all around the country packed the Coleman's backyard. Those alumni represented more than 40 years of Drake theatre graduates."¨
"Thankfully, the weather gods were kind," said Linda, who worked in the theatre department from 1977 to 1997. "It was a beautiful evening."
One highlight of the reunion was the attendance of other former faculty,
including Mike Barton, professor emeritus of theatre arts, who flew
from Florida for the weekend, and former scenic and costume faculty
members David Jones and Thea Albert. Saturday's events included a
luncheon, a panel discussion featuring Emmy and other national and
regional award-winning alumni and an evening reception.
"The panel discussion featured some of our most successful alumni," said
Bill. "We've had so many successes over the years, we could have had
several more panels." "¨
Though retired from Drake, Bill, 84, remains active in the world of
theatre""recently completing a residency at the Mountain Playhouse in
Jennerstown, Penn. for rehearsals and performances of his romantic
comedy, "One Golden Moment."
He also stays in touch with many of the Drake alumni he taught and
mentored over the years. For the Colemans, the reunion was an
opportunity to reconnect with many other alumni, and it gave theatre
graduates the chance to catch up with each other.
"To see so many beautiful faces from my past, both fellow students and the teachers who influenced my life so much, is still overwhelming," said Jeffrey Launius, FA'85. "The memories came flooding back, and I now have so many new ones from the weekend."
A committee of Theatre alumni worked with the Office of Alumni & Parent Relations for over a year to craft the perfect weekend to draw back as many graduates and reconnect them with the department, campus and each other.
Since the late October weekend, the reunion has continued on Facebook, with many alumni sharing their memories, photos and praise for the reunion's events through the Drake Alumni Theatre group on the social network.
The group also had the opportunity to share their favorite memories and Drake love stories at Drake's new video booth. View videos on YouTube.
"All the facebooking and emailing has been awesome and really exciting," said Debbie Haeusler, FA'77. "I feel closer to some of the girls now than I did in 1977! I'll never forget that 'perfect weekend.'"