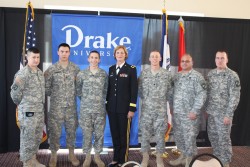 Brig. Gen. Phipps poses with members of Drake ROTC at Let's DU Lunch.
Brig. Gen. Janet Phipps, LW'05, presented "Honor Through Service" at Drake's Let's DU Lunch event on Wednesday, Nov. 3.
The luncheon in downtown Des Moines began with the Pledge of Alliance and a performance of God Bless America by the Drake Choir. Military veterans and service men and women received free lunches, courtesy of the Greater Des Moines Partnership, and were recognized for their service during the event.
Phipps, who has commanded at the unit and battalion levels, began her military service in 1985 in the United States Army Reserve, where she served as an officer for the Specialty Corps. She is a member of the Iowa National Guard and a former member of the Michigan National Guard. Phipps, a graduate of Drake Law School, also serves as an attorney for the McKee, Voorhees & Sease firm in Des Moines.
She spoke about the history of Camp Dodge and the current responsibilities of the Iowa National Guard.
"I can't talk enough about the National Guard," she said. "It means a lot to me — not just because my dad and brothers were in it""I am proud to wear the uniform."
The mission of the Iowa National Guard falls under two categories: federal and domestic. Currently, approximately 2,800 members of the Iowa National Guard's 2nd Brigade Combat Team are deployed or about to be deployed in Afghanistan. Many of the soldiers are working with local Afghani officials to build community resources while others are helping Afghanistan's leaders develop the country's army.
Two initiatives for U.S. soldiers in Afghanistan have been focused on sustainable agricultural practices and women's education.
"In the last nine years, the military uniform has been a lot more than guns and grenades," Phipps said.
Phipps also discussed the strain deployments put on the soldiers and their families and encouraged those in the audience to reach out to service men and women they know and offer to lend a hand. "You can't know how far that will go," she said. "It will mean an immense amount to that person."
The Iowa National Guard offers an Adopt-a-Family program for those interested in helping the families of deployed soldiers. The National Guard also provides many services for soldiers and their families before, after and during deployment to assist with the difficulties that arise from having a member of the family overseas.
"You can't do it without your family," Phipps said, "and you certainly can't do without friends, neighbors and community members."