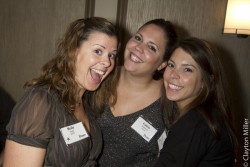 Alumnae met to network and socialize.
More than 90 Drake alumnae recently gathered to network, socialize and discuss the power of connections at a brunch hosted by the Drake Women's Connection of Chicago.
The brunch, which served as the organization's inaugural event, was held at the East Bank Club in downtown Chicago and attended by alumnae representing a wide range of generations and professions.
Debbie Bianucci, JO'78, GR'84, who serves as the organization's chair, said that members of the organization will benefit professionally and personally.
"What distinguishes this group of women is that the Drake Women's Connection provides value on two levels — valuable content and valuable connections," Bianucci said.
The organization will hold events twice a year that will include guest
speakers, facilitated dialogues and networking opportunities.
The next event is planned for May 2011.
"The intent of the Drake Women's Connection is to create a community
of women who will engage with each other on a variety of levels," said
Diane Caldbeck, associate vice president for alumni and development. "It
is our hope that this event was the beginning of an organization that
will benefit Drake alumnae for years to come."
For more information, contact the Drake Alumni Office at alumni@drake.edu.