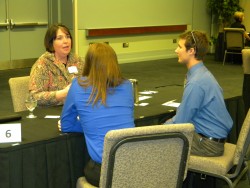 Current Drake students had the opportunity to network with alumni, who shared their experiences working in professional business fields.
Students from the Drake University College of Business and Public Administration recently met with alumni of all ages and experiences at "Connect 2010: Alumni-Student Networking" events held in Chicago, Kansas City and Minneapolis.
Alumni business professionals offered meaningful advice about real-world experience to students preparing for careers in a variety of corporate fields.
"The event was not only beneficial to the students to discuss career paths, but for the alums to see the bright and energetic students coming out of Drake," said Jerry Allen, LA'69. "Our financial and time contributions are well spent. It makes you proud of Drake University."
John Miller, BN'82, who serves as national sales manager for Piper Jaffray and Co., attended the Kansas City event.
"I thought the event was well-organized, and I was impressed with the poise and confidence of the students who attended," Miller said. "This was a great opportunity for students to get interview experience. It's imperative for students at an early age to go through this process, and they had the opportunity to sit across from someone in a professional field and get a feel for what is expected of a business school graduate."
Aaron Brunello, BN'02, agreed with Miller's assessment and said that the event was a great success for both students and alumni.
"I think the students benefit not only from the networking aspect, but also a"¨realistic grounding in what to expect when you leave Drake," said Brunello, who attended the Chicago event. "The alumni get an opportunity to meet current students and give back to the Drake community.""¨"¨Annette Watson, career services manager at Drake, said that the professionals encouraged the students and provided them with valuable career advice.
"Our students love to network with individuals in the business community," Watson said, "but this event was especially meaningful because they were connecting with alumni who had lived the Drake experience."