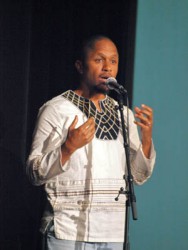 The film's director, Patrick Mureithi, will lead a discussion following the screening.
Drake University will sponsor a screening of "ICYIZERE: Hope" on Tuesday, Nov. 2 at 7 p.m. in Meredith Hall, Room 101.
The screening is part of the Drake Center for Global Citizenship's Fall 2010 Event Series. The event, which is free and open to the public, will also feature a discussion with filmmaker Patrick Mureithi.
"ICYIZERE: Hope" documents the experiences of victims of the 1994 Rwandan genocide as they grapple with the effects of post-traumatic stress disorder. The film was first viewed at the 2008 Rwanda Film Festival.
Mureithi will also speak about his film Nov. 2 at noon at the Des Moines Central Public Library Conference Room, located at 1000 Grand Avenue in downtown Des Moines. The event is part of the Iowa Council for International Understanding Speaker's Series.
ҬFor more information, contact Darcie Vandegrift at 515-271-2840 or darcie.vandegrift@drake.edu.