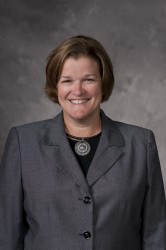 Drake University alumna and Assistant Professor of Pharmacy Practice Cheryl Clarke recently received the Iowa Rural Health Association (IRHA) Jerry Karbeling Award.
The award, which recognizes successful activism for improving rural health and a commitment to community service, was presented to Clarke at the IRHA's annual meeting in October.

Established to honor former IRHA President Jerry Karbeling following his death in 2005, the award is presented annually to an IRHA member viewed as a respected leader within the healthcare industry and communityӬ who enthusiastically participates in the development of rural public health policy.
Karbeling, a 1974 Drake graduate, is also honored by the College of Pharmacy and Health Sciences through the Karbeling Memorial Leadership award, which is annually awarded to a graduating pharmacy student in recognition of leadership in professional education, community service and pharmacy practice.
"I was surprised yet very proud to receive an award that honors the memory of Jerry Karbeling," said Clarke, who has been a member of the IRHA for six years and has served a term as IRHA president. "Jerry was a work colleague and special friend — he was such a positive influence on me personally and to countless pharmacy students and pharmacists. He was a passionate advocate for rural health and for health equity for all people."
The IRHA is a statewide organization that works to strengthen health care systems for rural residents and communities through leadership, education, advocacy, public awareness and networking.
Clarke graduated from Drake in 1986 with a degree in pharmacy. She joined the University's College of Pharmacy and Health Sciences faculty in 2008. In the courses she teaches at Drake, Clarke uses her firsthand knowledge of pharmacy practice and community-based health services to educate students about the challenges and rewards of practicing in rural settings.
Clarke credited her ties to the IRHA with helping her structure components of Drake's experiential education program for second-year students in the Doctor of Pharmacy Program.
"The pharmacy experiential program relies on rural practitioners to serve as preceptors for our students," she said. "Through the College's collaboration with partners such as the IRHA, Drake students receive excellent preparation to serve patients and the public in both rural and urban settings."