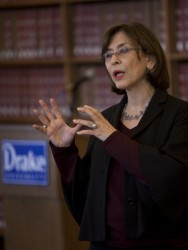 Azar Nafisi
Women's rights, the totalitarian regime in Iran and the power of the Internet were three prominent topics during a question-and-answer session between renowned scholar Azar Nafisi and about 50 students at Drake University this morning.
Nafisi, author of the bestselling "Reading Lolita in Tehran: A Memoir in Books," flew into Des Moines to deliver the 25th Martin Bucksbaum Distinguished Lecture tonight at 7 p.m. in Drake's Knapp Center. The lecture is free and open to the public.
Nafisi spent more than an hour with students from journalism, political science and international studies courses in a morning Q&A in Cowles Library. She took more than a dozen questions during the hour-long event time before staying another half hour to answer additional questions.
A photo gallery from the event is available at this link (check back tomorrow for photos of the evening lecture.)
"It was an absolutely amazing opportunity," said Sean Conard, a sophomore international relations major from Green Bay, Wis. "She cleared up a lot of misconceptions about Iran and women in Iran."
Nafisi described a progressive Iran, forward-thinking on issues
including women's rights, prior to the Islamic Revolution of 1979.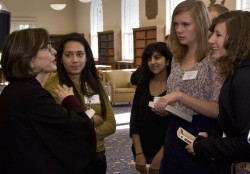 Azar Nafisi chats with students following the formal Q&A session
The
post-revolutionary regime stripped women of their right to work in
certain jobs, reduced marriage age for females from 18 to 9 years old
and prohibited women from leaving the country without their husbands'
consent — largely in the name of the Islamic religion.
Nafisi said media outlets and political leaders in the United States
speak in oversimplifications that fail to adequately characterize the
nuance and diversity of Iranian culture.
"There are so many misconceptions about Iran that all the cultures
and complexities are reduced to one component — religion," Nafisi said.
"All the greatest poets that we had 1,000 years ago, which Emerson and
Goethe loved and translated, are forgotten and we are reduced to 'Women
being stoned to death.' "
Nafisi addressed the changing political and social significance of
head scarves, describing the requirement to wear them as "a device of
establishing uniformity, a control mechanism" of the totalitarian
regime. Nafisi was expelled from the University of Tehran, where she
taught courses, in 1991 for refusing to wear the mandatory Islamic veil.
"I don't have any problem at all with women who choose to wear a
veil," Nafisi said. "The issue is the right to choose. [Women] have been
flogged, some of them have been jailed, and some have even been killed
— not because they took up the gun, but because they looked the way
they wanted to look."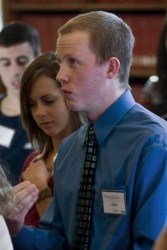 Sean Conard, a sophomore from Green Bay, Wis., asked whether the current Iranian regime would fall.
Conard, the sophomore from Green Bay, Wis., asked Nafisi whether she believed the regime in Iran would fall; and, if so, whether it would fall due to internal or external pressures.
"There is always the danger in a volatile political situation that there will be a military coup," Nafisi said.
But, she said, it is more likely that the regime will disintegrate much as the Soviet Union did.
She described a young generation of Iranians who use the Internet to plug into other cultures, values and beliefs. More than 370,000 people signed a petition this year encouraging the Iranian government to abolish stoning as a method of execution after a 43-year-old mother of two was sentenced to death for adultery.
Nafisi said American students who want to make a difference in Iran can do so by reaching out to Iranian students on Twitter, Facebook and other web forums.
"When I talk about support from the outside," Nafisi said, "these are the things that I mean."