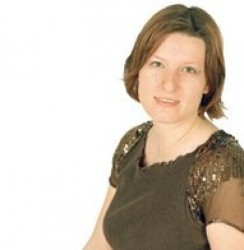 As part of Drake's Writers and Critics Series,
Holly Furneaux
will present a lecture titled "Queer Optimism, Queer Dickens, and Queer Seriality," on Monday, Oct. 25.
The event, which is free and open to the public, will begin at 7 p.m. in the Cowles Library Reading Room, 2725 University Ave.
Furneaux, whose main research interests include nineteenth century perceptions of gender, sexuality, the body and medicine, is a Lecturer in Victorian Literature at the University of Leicester in the United Kingdom. Her visit to Drake will be sponsored through a Faculty Exchange Grant.
Furneaux recently served as principal organizer for the British Association for Victorian Studies annual conference. Her 2009 book, "Queer Dickens," explores the affirmative representations of same-sex desire and non-normative familial structures in the work of Charles Dickens.
The Writers and Critics Series is sponsored by the Drake English Department and made possible by a grant from the Drake Center for the Humanities. For more information, contact Jennifer Perrine at 515-271-4161 or jennifer.perrine@drake.edu.