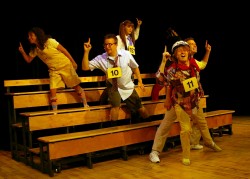 Drake student Danika Portz, far left, performs with the cast of "The Twenty-Fifth Annual Putnam County Spelling Bee."
Members of the Drake family have worked on-stage and behind the scenes to make sure that a StageWest Theatre Company production is a success.
"The Twenty-Fifth Annual Putnam County Spelling Bee," a musical that follows six adolescent outsiders vying for top prize at a spelling championship, is directed by Deena Conley, associate professor theatre arts at Drake.
The production also features Andrew Ryker, teaching artist of voice, as musical director, and Danika Portz, a senior accounting-marketing major from Remsen, Iowa, in the role of Olive Ostrovsky.
The show opened Oct. 8 and will run through Sunday, Oct. 24.
Performances are held Wednesday through Saturday at 7:30 p.m. and Sunday matinees begin at 3 p.m. at the Civic Center of Greater Des Moines' Stoner Theater, 221 Walnut St. in downtown Des Moines.
"The script and score are witty, challenging and heartfelt," Conley said. "As news stories abound that focus on the troubling issue of bullying, it's nice to work on something in which 'misfits' get their turn to shine."
Acclaimed by critics and audiences from coast-to-coast during its national tour, the musical comically dissects the angst suffered by overachievers. The show is populated by quirky yet charming characters for whom a spelling bee is the one place where they can stand out and fit in at the same time.
Wednesday and Thursday tickets cost $22 per person. On Fridays, Saturdays and Sundays, tickets cost $25. They can be purchased by phone at 1-800-745-3000, online at http://stagewestiowa.com/tickets/individual-tickets/ or in person at the Civic Center Ticket Office.