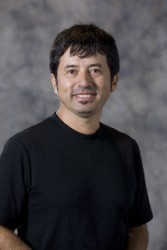 Eduardo Garcia-Villada
Eduardo Garcia-Villada, assistant professor of Spanish in the World Languages and Cultures Program, will give a lecture on using impromptu video recorded interviews to study Mexican cultural identity in the third presentation of the fall 2010 Drake Center for the Humanities Colloquium Series.
The free, public lecture, titled, "Mexico Celebrates 2010: Learning about Mexican Identity with Authentic Videos," will be held from 3:30 to 5 p.m. Friday, Oct. 22, in the Honors Lounge of Medbury Hall, 2730 Forest Ave, on Drake campus.
The presentation will include spontaneous video interviews that Garcia-Villada collected from scholars and residents in Mexico City and Guadalajara in July. The unrehearsed and unscripted videos — collected during the 100th anniversary of the Mexican Revolution and the 200th anniversary of Mexican Independence from Spain — touch on broad topics of Mexican cultural identity and current issues, including the war on drugs.
Also at the lecture, Garcia-Villada will discuss techniques for producing useful videos. Garcia-Villada teaches Spanish language courses and courses in Latin American cinema and Mexican and Colombian cultural identity.
Garcia-Villada received a Ph.D in curriculum and instructional technology from Iowa State University. His research and writing are in Spanish language proficiency assessment, Latin American cultural studies and student motivation to study Spanish language and cultures in computer-assisted, language-learning environments.
This lecture on Mexican identity is the third of five lectures in the fall 2010 Drake Center for the Humanities Colloquium Series. The Humanities Colloquium Series will continue with the following presentations, which will take place from 3:30 to 5 p.m. in the Honors Lounge of Medbury Hall:
· Nov. 5 — Joan Faber McAlister, assistant professor of rhetoric, "Intimate Artifacts and Aesthetic Agents: Rhetorics of Preservation and Transformation in Two South African Prison Museums"
· Nov. 19 — Renee Cramer, assistant professor of law, politics and society, "Signs at Odds? Reading Law, Legitimacy and Authenticity in Tribal Demarcations"
The University's Center for the Humanities sponsors the ongoing colloquium series that features faculty members whose work involves questions and topics relevant to the humanities. "¨"¨For more information about the series, contact Joseph Schneider at 515-271-2158 or joseph.schneider@drake.edu.