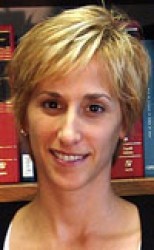 Lori A. Ringhand
Professor Lori A. Ringhand of the University of Georgia School of Law
will deliver a free public lecture on the Supreme Court confirmation
hearing process on Thursday, Oct. 21, at the Drake Law School.
The lecture, titled "Supreme Court Confirmation Hearing: What
Really Happens?" is scheduled to begin at 3 p.m. in room 213 of
Cartwright Hall.
Ringhand teaches constitutional law, election law and state and
local government law at University of Georgia School of Law. She is a
nationally recognized expert on the Supreme Court confirmation process
and judicial behavior.
Her work has been published or is forthcoming in journals such as
the University of Pennsylvania Journal of Constitutional Law,
Constitutional Commentary, the Columbia Journal of Transnational Law
and the Oxford Journal of Legal Studies. The New York Times and other
national media outlets have cited her work on numerous occasions.
This lecture is part of the Constitutional Law Center's Distinguished Lecture Series. The centerinvites the nation's leading constitutional scholars to Drake Law
School to engage students and faculty in discussions about current
issues. Speakers deliver a formal lecture and also meet with faculty
and students to discuss their research and scholarship.