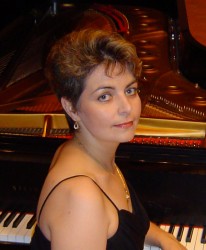 Drake University will host a guest recital performed by
Ksenia Nosikova
, professor of piano at the University of Iowa, on Thursday, Oct. 21.
The concert, which is free and open to the public, will be held at 8 p.m. on the Jordan Stage in Sheslow Auditorium in Old Main, 2507 University Ave.
Nosikova has traveled as a solo pianist and chamber musician throughout the United States, Europe, Asia and South America, performing at Carnegie Hall and Merkin Hall in New York City, City Hall Theatre in Hong Kong, Palacio da Artes in Brazil and Chetham's International Piano Series in England.
She has served as an adjudicator for the Los Angeles International Liszt Competition, the Schmidbauer International Competition and the Ibla Grand Prize International Competition in Italy. Nosikova is a member of the American Liszt Society's Board of Directors and serves as president of the American Liszt Society Iowa Chapter.
Nosikova has recorded several albums, including "Years of Pilgrimage," a collection of compositions by Franz Liszt, and "Flight and Fire," a 2007 collaboration with American composer Lera Auerbach. Her latest CD, "Music for Piano and Chamber Orchestra," was released in 2009.
Nosikova earned her bachelor's and master's degrees from the Moscow Conservatory and her doctorate from the University of Colorado.
For more information, contact the Drake Music Department at 515-271-3975.