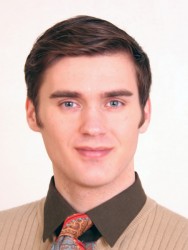 On Wednesday, Oct. 20, Drake University will host a guest lecture on contemporary Chinese art in relation to the nation's societal inequities and emergence as a world economic power.
The event, which is free and open to the public, will begin at 4 p.m. in room 336 of Drake's Harmon Fine Arts Center, 25th Street and Carpenter Avenue.
Nathan Peterson, a doctoral candidate in art history at the University of Iowa, will lead the discussion, titled "The Edge of Art in China." He is teaching a course on Chinese art at Drake this semester.
Peterson will talk about the political constraints faced by artists living in China as they try to compel the government to be more transparent concerning issues such as human rights and corruption.
The event is sponsored by Drake's Department of Art and Design. For more information, contact Associate Professor of Art History Maura Lyons at 515-271-3858 or maura.lyons@drake.edu.